Our Natural Health Department features a variety of supplements, vitamins, natural and homeopathic remedies along with a wide selection of body care products.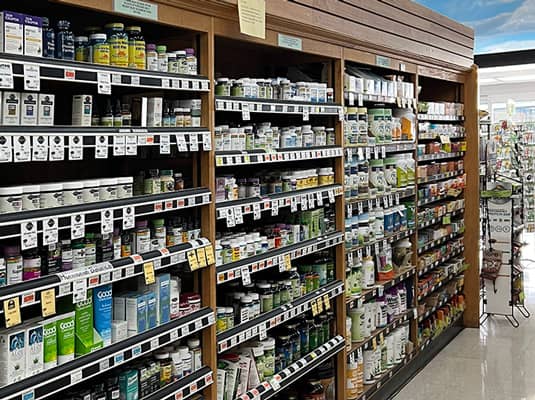 Our Supplement aisle is full of vitamins, supplements, probiotics and homeopathic treatments to help with what ails you. Whether you are looking for a natural alternative to alleviate allergy symptoms or an immunity booster, we might have just what you are looking for.
Our Body Care section is overflowing with high quality items to keep you looking and feeling your best. Whether you are looking for essential oils, henna, moisturizer or shaving cream, you'll find choices within our selection. We are proud to carry a wide selection of natural, cruelty-free, high quality products including soaps, shampoos, conditioners, tooth pastes and much more. 
In addition, we carry products to help heal from the bumps and bruises and hiccups of everyday life. From arnica cream for bruises and soreness, to treatments for poison oak or head lice, we carry the products that help get you and your family back to normal.